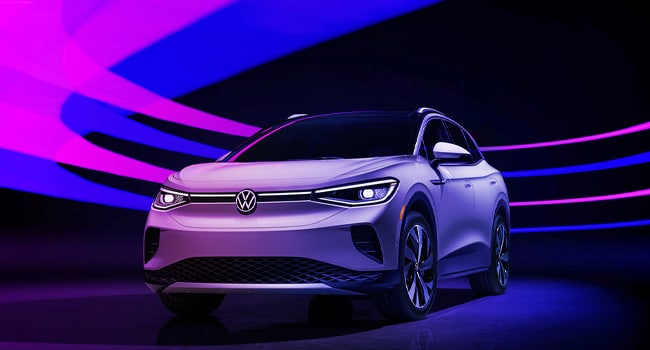 With the release of the 2021 Volkswagen ID.4, enthusiasts are curious about the performance of this electric vehicle. We will review what you can expect when you test drive this model at Cherry Hill Volkswagen. Let's look at the performance, range and charging.
2021 ID.4 Electric Performance Specs
Eventually, we will see all-wheel-drive ID.4 models. For now, the only option being released is the single-motor, rear-wheel-drive model. The rear-mounted motor creates 201 horsepower, while the all-wheel-drive models will produce 302. With the help of regenerative braking, energy is recaptured every time the vehicle slows. You can even tow up to 2,700 pounds with this new Volkswagen.
2021 ID.4 Electric Range & Charging
The 82-kWh battery pack produces enough power to take the SUV 250 miles on a single charge. This is comparable to both the Hyundai Kona Electric, as well as the Kia Niro EV. You can charge the battery with a 110- or 240-volt connector. Plus, it's capable of DC fast charging to get you back on the road quickly.
The EPA estimates the ID.4 at 104 MPGe in the city and 89 MPGe on the highway.
2021 ID.4 Electric: The All-Around Package
While the ID.4 offers superior power and ride quality, it also comes with a comfortable, feature-packed cabin for an enjoyable ride. From the latest tech features to the advanced driver-assist aids, you have everything you need for a short commute or a long drive.
It's time to check out the new ID.4. When you visit Cherry Hill Volkswagen, you can see this model in-person. We suggest you take it for a test drive and see what it offers. Even if you haven't thought about driving an electric vehicle before, this model is sure to change your mind. Schedule your test drive and explore the world with Volkswagen style.