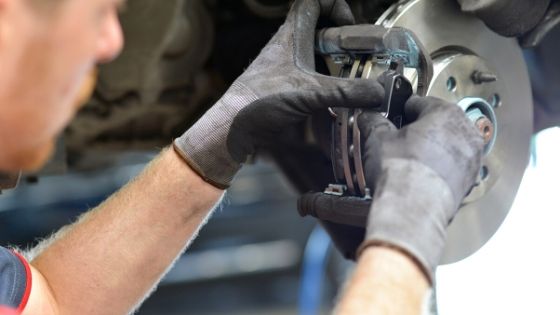 It's tempting to prolong brake service on your Volkswagen, but you aren't receiving the level of safety you deserve. The VW brake pads need to work as intended to protect you. Not only will this neglect cause dangerous situations on the roads of New Jersey, but it could also mean costly repairs.
At Cherry Hill Volkswagen, we want you to know when to get brake repair, so you stay safe.
What are Volkswagen Brake Pads?
VW brake pads sit between the rotor and caliper. These braking components help your vehicle slow down every time you press the pedal. If something malfunctions or the pads are worn, other parts will wear down.
Volkswagen brake pad maintenance ensures that you drive safely. It also keeps your repair costs down.
Symptoms of Bad Volkswagen Brakes
As you attempt to stop your vehicle, the pads will wear out a tiny bit. This is natural. However, over time, the continuous use of the brakes causes the material to disappear completely. Before that occurs, you want to pay attention to these failing brake pad symptoms.
· Dashboard Light: Today's vehicles come with a Brake Indicator Light, telling you when to get service.
· Strange Sounds: Initially, you might hear a squealing or screeching sound as the wear indicator becomes exposed. Over time, this sound will become a grinding or growling tone instead. This metallic noise tells you that you can't wait any longer to have the brakes replaced. Plus, you might have already caused damage to the calipers or rotors.
With a little knowledge, you can look at the brakes yourself. When looking at them through the wheel spokes, you should still see at least ¼-inch of material remaining.
Trust Your Volkswagen Technician with Brake Pad Replacement
Don't take your vehicle anywhere but Cherry Hill Volkswagen. Our factory-trained technicians only use OEM parts to ensure your VW gets the quality it deserves. Schedule your brake inspection in today.