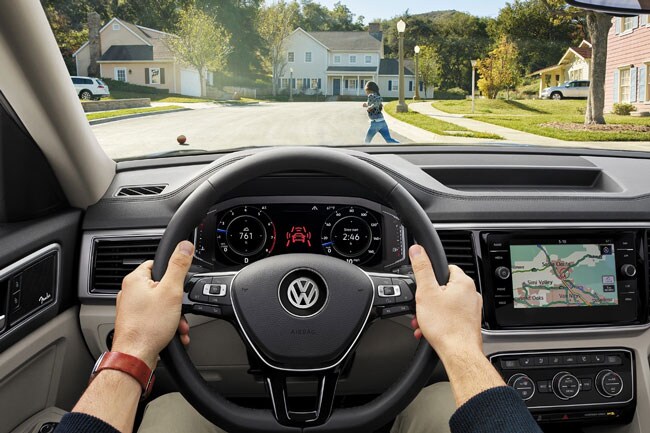 The 2019 Volkswagen Atlas is an excellent choice as an SUV for your family. It is roomy and can fit up to seven passengers comfortably. Not only does it have an affordable price tag, but it also has a stylish exterior and impressive functionality. It is loaded with driver assistance features to help keep you and your family safe. Let's look at the innovative driver assistance features from vehicles at Cherry Hill Volkswagen.
Overhead View Camera
This camera allows you to see all around your VW Atlas. This overhead view is a crucial first step for safety.
Pedestrian Monitoring with Front Assist
In the city, pedestrians can seem to appear out of nowhere. They can pop out in front of your vehicle with little warning. This incredible feature – pedestrian monitoring- can really help avoid these scary situations. This technologically advanced system detects pedestrians in front of your VW Atlas. It even has technology built in to automatically brake in certain circumstances.
Adaptive Cruise Control
In the past, cruise control was a convenient tool for drivers to use. It allows a certain speed to be maintained automatically, which is nice. The Adaptive Cruise Control feature on the 2019 Volkswagen Atlas takes it up a notch, though. It features the same cruise control functionality for setting speed. However, it also can be adjusted for the distance between your car and the car ahead of you. It even slows your car if the vehicle ahead slows down.
Blind Spot Monitoring and Lane Keep Assist
If a vehicle is coming up to your blind spot, Blind Spot Monitoring will alert you. On the same token, if your car strays out of its lane, the Lane Keep Assist function will inform you.
Enjoy the Atlas Today
The 2019 Volkswagen Atlas is full of driver assistance features. You can be confident that your vehicle is helping to keep you safe. Visit us to find the Atlas and other Volkswagen cars in Philadelphia.