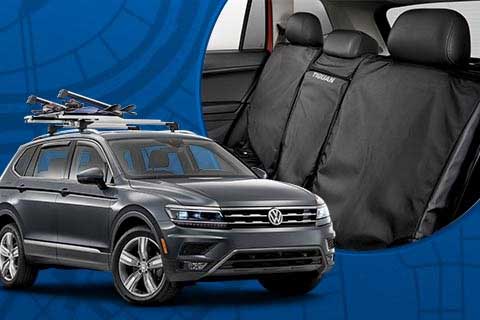 The VW Tiguan is a popular vehicle at Cherry Hill Volkswagen. What many people don't realize is that there are a lot of ways to enjoy this compact SUV even more with some of the Tiguan accessories that are available. Here are some of our favorite options.
MuddyBuddy Trunk Liner
Protect the cargo area of your Tiguan from grime and dirt. This liner is constructed from a heavy-duty rubber material to keep the carpet in pristine condition. Avoid water damage, mud and scuff marks. Plus, it's removable for easy cleaning.
Privacy Cover
If you want to keep all of your valuables safe, you want them to remain out of sight. That's where the removable privacy cover comes into play. It provides a sleek design that hides your possessions from potential thieves.
Aluminum Side Steps
Installing side steps on the Tiguan helps you to get inside with ease. The polished metal design is elegant, but they are also slip-resistant for maximum protection.
Custom Wheels
Is there any way to make the Tiguan stand out more than with a set of custom wheels? We don't think so. Choose from a variety of wheel styles to match your tastes.
Monster Mats
Your Tiguan faces many threats, from water damage to dirty shoes. With the thick rubber design of the Monster Mats, you get the protection you need while the mats stay easily in place.
Find Genuine Volkswagen Accessories in Cherry Hill, NJ
Want to learn more about our selection of Volkswagen accessories? We have many useful options to choose from, whether you drive a Tiguan or some other VW model. Visit a Volkswagen dealer in Philadelphia to find the parts you need for interior and exterior protection. Talk to our experts today to find the solutions you desire. While you are here, take some time to look at the new and used Volkswagen models for sale.