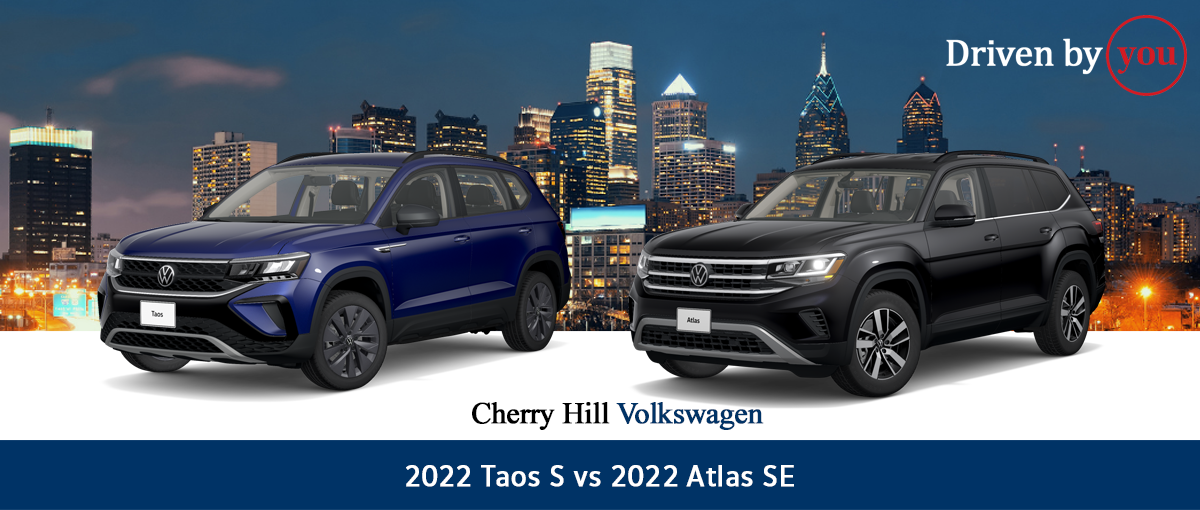 When it comes to practicality, SUVs are a class apart. Not only are they perfect for families by providing spacious seats, but they are also very fuel economical. One of the biggest SUV manufacturers right now is Volkswagen, and the brand has to offer two new SUVs. One is the 2022 Taos S and the 2022 Atlas SE. Both of them are the top latest and top models from the brand. But how do they compare against each other?
A detailed comparison between 2022 Taos S and 2022 Atlas SE below will help you determine the plus points and turn-offs of both models and which one is best suited for you.
2022 Taos S vs. 2021 Tiguan S: Pricing
The SUVs are one of Volkswagen's economical cars. For example, the starting price for a new 2022 Taos S is a reasonable $22,995.
On the other hand, the 2022 Atlas SE is slightly at the higher end, coming in at the retail price of $33,475. So, do the performances and features justify its pricing? Or does the newer 2022 Tao S take the crown?
2022 Taos S vs. 2022 Atlas SE: Performance
The 2022 Taos S comes with a turbocharged engine of 1.5L inline-four, which generates a decent 158 horsepower and torque of 184 ft-lbs. Furthermore, we can see the regular front wheel with 8-speed shiftable automatic transmission.
On the other hand, the 2022 Atlas SE features two models, both of which have a more powerful engine than its Taos S counterpart. One model features a remarkable 3.6L V6 engine that produces a heavy 276 horsepower and 266 lb-ft torque. The other model features a regular 2.0L, the 4-inline engine that can produce 235 horsepower and 258 lb-ft of torque.
Thus, the 2022 Atlas SE is a clear winner in terms of performance.
2022 Taos S vs 2022 Atlas SE: Interior
SUVs like the 2022 Taos S and 2022 Atlas SE have spacious interiors that comfortably accommodate six to seven passengers. However, the Atlas SE has a slightly larger capacity when it comes to dimensions.
Where Taos S can reach its limit after five full-grown adults, Atlas SE can easily fit seven people. Nonetheless, both models offer a 6.5 inch LCD touchscreen, Bluetooth, App-Connect, AM/FM radio, steering wheel-mounted audio controls, and six speakers!
Features and gadgets are the hallmarks of SUVs. Both Volkswagen models offered are fuel-economical, with an average of 31 mpg for the Taos S model and 25 mpg for Atlas SE. However, according to various sources, Taos S has a much better mileage!
Some of the features of Tiguan S include
●        Navigation
●        Keyless Ignition
●        Cruise control
●        Parking assistance
●        Leather Upholstery
●        Heated seats
●        Sunroof
Moreover, other features of Taos S can vary with the models. For example, heated or cooled seats and sunroofs are available only in limited variants. Thus, you are getting more features on Taos S at a lesser price!
One of the prime features offered by Atlas SE IQ-drive. This built-in semi-autonomous system effectively sees and controls the road and makes your ride a lot more comfortable.
Another great feature offered by the Atlas SE model is mobile control of the car through the Volkswagen Car-Net. This allows the user to
●        Give remote commands
●        Family Guardian Alerts
●        DriveView
●        Parking Info
●        VW Car-Net Hotspot
Just by using a mobile phone! However, the rest of the basic features are similar to the Taos S model.
Regarding its interior dimensions, the front headroom for the 2022 Taos S is about 40.7 inches, while the rear has a comfortable 39.8 inches. On the other hand, the legroom is spacious, 40.1 inches for the front and 37.9 inches for the back.
In comparison, the front and rear headroom for the 2022 Atlas SE is slightly larger. With the former being 41.3 inches and the latter a vast 40.4 inches. We can see a front and rear legroom of 41.7 inches and 37.6  inches, respectively. Overall, Atlas SE takes the win in terms of capacity as well!
2022 Taos S vs. 2022 Atlas SE: Exterior
The dimensions of the 2022 Taos S are:
●        Length of 175.8 inches
●        Width (without mirrors) of 72.5 inches
●        Height of 64.4 inches
While the 2022 Atlas SE has:
●        Length of 200.7  inches
●        Width (without mirrors) is not available yet
●        Height of 70.1 inches
As we see from the data, Atlas SE is superior in terms of exterior dimensions as well.
When it comes to the wheels, Taos S features 17-inches aluminum wheels, while the Atlas SE has larger 18 inches.
2022 Taos S vs. 2021 Tiguan S: Safety Features
The SUVs are one of the safest cars you can own. They are famous for whole family trips, and therefore, are equipped with excellent safety features. And the Volkswagen SUVs, Taos S, and Atlas SE are no exception.
Both of these cars feature four-wheel disc brakes, a cutting-edge ABS braking system, modern brake assist. On top of that, we can also see dual front impact airbags and traction control. That's not all! It also comes with a panic alarm, dual front impact airbags, and perimeter/approaching lights! However, Atlas SE takes the win for this one as it has some additional features like Safety Cage, Intelligent Crash Response System, and Tire Pressure Monitoring System.
Own a New Performance Powerhouse With a Volkswagen SUV!
We're sure you can wait to get your hands on the new Volkswagen SUVs! So, book a test drive at Volkswagen Cherry Hill now. Opt for a car that perfectly aligns with your needs and take advantage of our budget-friendly lease deals.